Scuderie Serra Performance Horses
Breeding foals of high pedigree Quarter Horse Red Rohan, Paint Horse, Argentine Breed
The horses of the Scuderie Serra are constantly supervised by the veterinary doctor Michele Bendini of Città di Castello and by the veterinary doctor Innocenzo Quirino university professor at the university of Turin, the same is also a breeder.
The diet takes into account the fact that the horses and foals of the Scuderie Serra are destined for a life as future champions and for this reason they are fed like athletes with supplements and, for maintenance, with protein concentrates superior to any other food; this diet is integrated with beet pulp, hay, alfalfa, apples, pears and carrots.
The Scuderie Serra of the Villa Valentina boast important partnerships: Giulio Negri owner of the G.L. Ranch from Città di Castello, Marco Cremaschi from Parma and Cavalli Maiolo from Arnaldo Mascella from Rimini.
In the photo Giulio Negri performance horse, trainer and breeding on Jack.
In the Villa Valentina Spa, in addition to spending days of taste, well-being and tranquillity, you can stop at Le Scuderie Serra with your own vehicles (trailers, vans, trucks, etc.) and enjoy free walks in the open countryside over 500 above sea level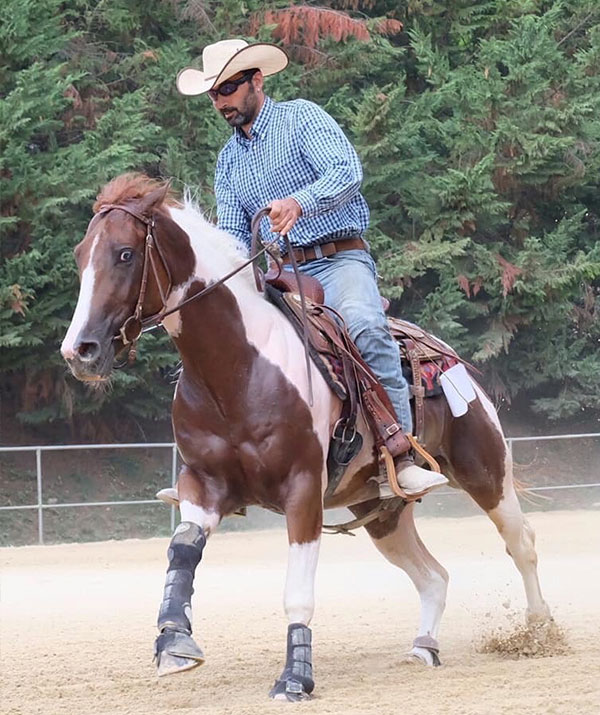 Quarter Horse
MIRACLE OF PEP
Miracle of Pep is daughter of Little Peppy Four and granddaughter of Peppy San Badger progenitor of the Quarter horse breed by casting and caw horse, the mother is Gins Little Belle who is in turn daughter of Gin Suite Mama and the great-grandfather is Tanquery Gin one of the progenitor stallions of the four 6666 Ranch, see also Yellowstone television series.
Horse Miracle is now 16 years old and destined to broodmare.
In the photo Giulio Negri Performance Horses.